Autumn Equinox Retreat September 23rd-24th 2022
Rest, restore, re-balance
From burn out to balance, finding a clear calm space within yourself on this revitalising and restorative retreat
Take a pause, rest, restore, revitalise your body, mind and soul on this small peaceful and nurturing weekend retreat. Taking some time out to practice yoga and meditation in the beautiful setting of the South Downs.
Hosts Nicola and yoga teacher Rebecca Oura invite you to join them for a restorative style yoga retreat surrounded by nature in this calm and tranquil setting.
Take the time to nourish yourself, switching off, with delicious locally sourced healthy meals, walking in the glorious natural settings, listening to the wildlife around you and practicing gentle cleansing and relaxing yoga.
The weekend of yoga will be gentle and inclusive to all honouring this time of year with sense of balance and self care.
After morning yoga at the The Yoga Garden Yurt at Knepp Safari the day will be yours to relax and unwind in the tranquil settings and an opportunity to wander around , a vinyasa yoga session will be offered later in the morning and later a restorative style evening yoga practice to send you off into a good night rest.
Rain or shine we will be cosy and exeptionally comfortable in the fabulously designed setting of the houses and cosy glamping tents and lounges, there a many spaces to choose to find a quiet space.
For those who like to explore there is the award winning Knepp Safari a short cycle ride away and of course the glorious vistas from and delightful walk up to the top of the Southdowns, or even walk or cycle along the river to sea. And if you're up for it Rebecca and Nicola will take you for an Autumn Equinox Sea Swim!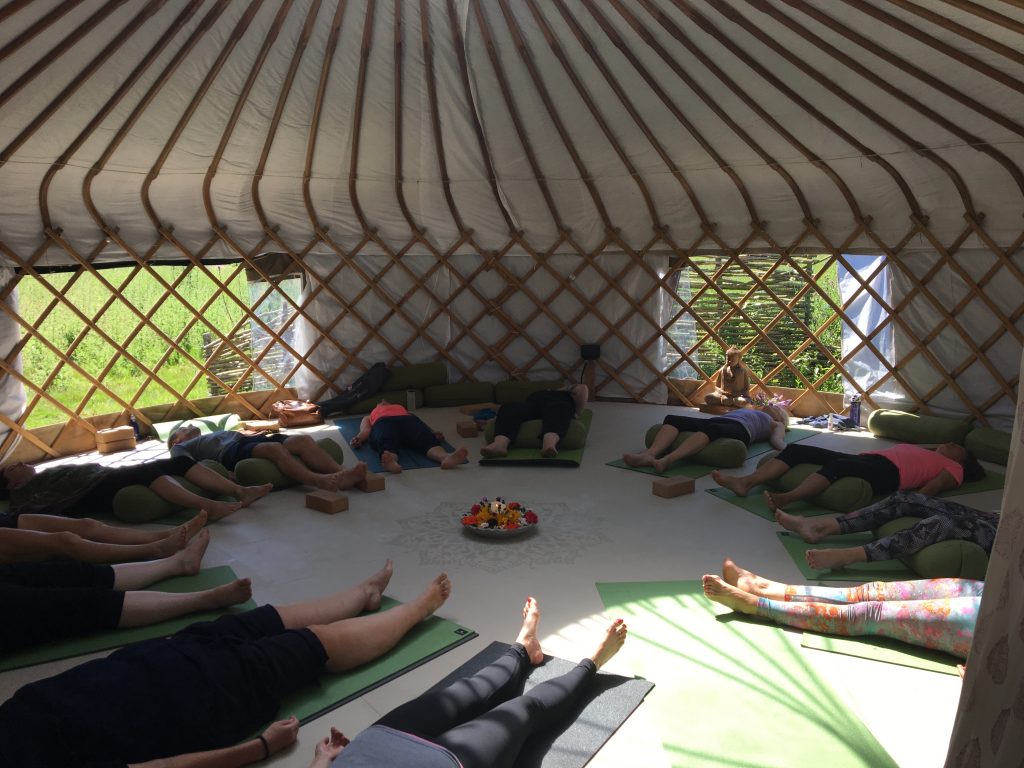 The yoga taught here will be suitable for all levels including beginners.
There is a choice of delightful rooms and cosy glamping bell tents based on doubles sharing,
The Glamping Tents
The Wisp
Gold Top