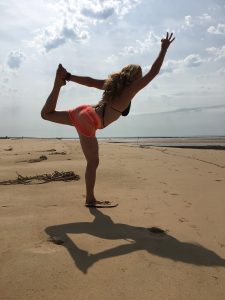 Rebecca Oura is a qualified yoga teacher with over 4 years of teaching experience,  graduating from the Yoga Garden's debut teacher training in May 2014. She has had a regular practice of yoga for over 20 years with a variety of styles and teachers , including the Institute of Iyenger and Sivananda  'bringing peace to the mind and body' .
"… Recently completing the Yoga Gardens Teacher Training Mentorship with Amrita Pooly the Yoga Garden's resident Jivamukti teacher, was a perfect training for Vinyasa Flow as it allows me to make gentle adjustments to my students while calling out a class."

"… I started practising yoga in my 20's from an old 70's book of my father's( a physiotherapist) . I then came across yoga culturally in Almora, North India and the Ashrams of Rishikesh, although my real connection came through regular practice through-out my 30's in church halls in Camberwell which completely rehabilitated my lower back problems."
Appreciating all styles of yoga for the benefits they give, Rebecca is teaching restorative at the Yoga Garden where she combines the structured restorative postures of Iyengar with the flow of Yin yoga.
"… Yoga first appealed to me as a non-competitive form of exercise that allows you to nurture your body while challenging your edge as you hold or stretch into postures, toning and building strength.  Yoga is an ancient science that opens up and works all the body's systems  and is particularly beneficial for stretching into the myofascial trains and  muscles, like a massage from within.  It's a democratic practice that can be modified to suit all body types, ages and abilities. Over the  years my own practice has moved on from a being a vinyasa flow to being a way of life, meditating and using mindfulness as a life tool.  I teach my classes to share the experience of yoga  through asana, pranayama and pratyahara with the potential that those I teach will have the ability to develop their own practice."

" … but most of all I love the way you feel after a yoga class."